This is not an article about politics. It is about how a simple phrase like "Make America Great Again" helped an unlikely candidate pull off the biggest political upset in American history.

The article is not about if you think Donald Trump will, in fact, make America great again or if you think America ever stopped being great in the first place or if you voted for Donald Trump.

This article seeks to answer one simple question:

Are there lessons businesses can learn from Donald Trump's "Make America Great Again" slogan?

So, with the disclaimers and caveats out of the way, let's get started...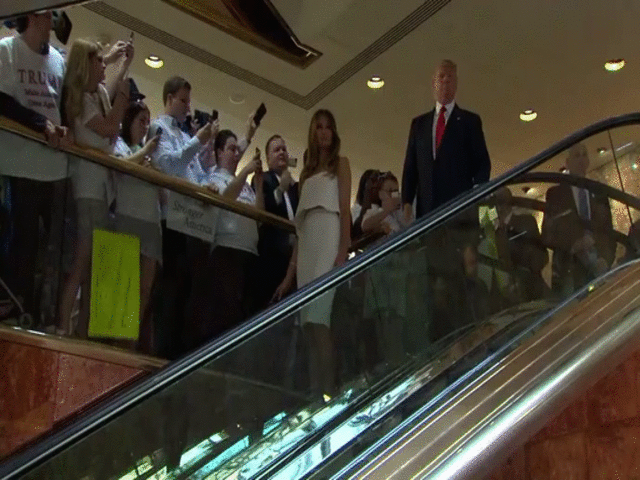 When Donald Trump famously rode the escalator down to the lobby of Trump Tower to announce his candidacy, the phrase Make America Great Again was prominently displayed on the podium before he ever said a word.
He used the phrase Make America Great Again twelve minutes into his announcement speech and before he officially declared himself a candidate.
He even made sure he used the phrase in his first sentence as a candidate when he said:
"Ladies and gentleman, I am officially running for President of the United States and we are going to make our country great again."
He continued to use the phrase throughout the campaign. He said it in virtually every speech, rally and interview during the campaign. Today, if you do a Google search for "Make America Great Again" you will get almost 60,000,000 results.
He was also consistent to the very end. He used the slogan in the final video he made before he was elected.
We need your vote. Go to the POLLS! Let's continue this MOVEMENT! Find your poll location: https://t.co/VMUdvi1tx1 #ElectionDay #VoteTrump pic.twitter.com/9hdO88iLdE

— Donald J. Trump (@realDonaldTrump) November 8, 2016
Then, on November 8, 2016 he shocked the world by being elected President of the United States.
Was the phrase Make America Great Again the only reason Donald Trump was elected? Of course not. Did it contribute to his success? Absolutely.
Here are six lessons businesses can learn from Donald Trump's "Make America Great Again" Slogan:
Simple is better
We've all heard the question, "If a tree falls in the forest and no one is around to hear it, does it make a sound?
If people can't remember your message, it might as well not exist. Virtually every presidential campaign in modern history has had a slogan. How many of those can you remember off the top of your head? Maybe a few, but probably not many.
Make America Great Again will likely go down as one of the most famous and effective slogans in American presidential history. It won't be remembered because it was the best slogan in history. It will be remembered for its simplicity and how consistently it was used by the campaign to connect with millions of American voters.
Put it on everything
Ahh, the famous red hat. Some people thought it was just a way for Trump to keep his unruly locks under control.
The iconic red hat helped ingrain the phrase in the minds of the public. In addition to the hat, the phrase was used throughout the campaign:
At rallies:
On his website:
On promoational products:
Originality isn't a requirement
Trump wasn't the first political candidate to use the phrase Make America Great Again. Reagan used slightly more verbose version in 1980:
Before Bill Clinton said the phrase was racist, he actually used it in his own campaign:
Businesses should strive to create a compelling message that is simple, unique and truly defines who they are. However, unique and completely original are two different things. Too often businesses get caught up in trying to "reinvent the wheel" instead of settling on a message and moving forward.
Protection is important
Even though the phrase Make America Great Again had been widely used, Donald Trump trademarked it in 2012. He also sought to protect the trademark when Ted Cruz used it in a campaign video.
After you settle on a message, it is important to explore every option for protecting that message including seeking trademarks where appropriate. If you aren't an attorney, you should find an experienced attorney to help you with this process.
Make sure everyone knows the message
Everyone on Trump's team knew the message:
Campaign Manager Kellyanne Conway knows the message:
Perfect gift from a very special woman, @IvankaTrump, as we head into the final stretch. Keep it classy. #MAGA pic.twitter.com/sdFKmDIdJQ

— Kellyanne Conway (@KellyannePolls) November 4, 2016
Vice President Mike Pence knows the message:
And you can bet everyone else on Trump's team knows it too.
Everyone must buy in. If the business owner or CEO is the only person who is "on message" it won't be effective. As a leader, you must ensure that everyone knows your message and communicates it to your customers and prospects on a regular basis. Which leads me to the next point.
Say it, Say it, and Say it Again
How many times did Donald Trump say Make America Great Again during the course of the campaign? Thousands? Tens of Thousands? Hundreds of Thousands? He was probably tired of saying it and there's no doubt that some were tired of hearing it.
People even made fun of it.
That didn't matter to Donald Trump and his team. They continued to stay on message. And it worked out pretty well for them.
The takeaways:
Develop a simple message that reflects the vision of your company.
Make the message visible by consistently using it everywhere possible.
Don't let a desire for absolute originality deter you from creating a simple, memorable message.
Once you've developed a message, take the necessary steps to protect it.
Educate and train your team to ensure everyone knows the message.
Don't ever get tired of reinforcing your message. Don't assume everyone knows it. Keep on saying it.
If your business needs help creating and spreading a message that is unique and memorable,
call
866-658-7423

EXT 221 or submit the form below.